"To everything there is a season, a time for every purpose under heaven."
The Seasons of Faith illustrated book series from Children's Bible Hour was written to help children through the different seasons of life. Each story also lays out the plan of salvation.
Spring is a time when people experience new life in Christ. Faith develops and Christians begin to share the Salvation message with others.
Summer is the season when faith grows under God's love and care. Fruit is witnessed and triumphs are gained through applying His Word and striving to be the best we can be in Christ.
Autumn can be times of struggle and temptation, peer pressure, making mistakes, and scary transitions. Even though it might seem like nothing good can come from this time, God has promised us He will be there. He will teach us how to forgive and then grow in grace.
Winter is the most difficult. Deep struggles, mourning, trying to make it through difficult times, or the death of a loved one can pull us away from God. He teaches us to lean on Him for comfort and peace.
The stories, adapted from radio scripts of the Children's Bible Hour, encourage children in their faith. These soft cover books are nicely done and have many illustrations. The included audio CDs provide page prompts so it is easy for your non-readers to follow through pictures while listening to the stories read by "Uncle Charlie". The CDs brought back memories of hearing "Uncle Charlie" on the radio when I was young. There are currently four books in the series. You can find discussion questions on the CBH website if you want to discuss the stories further with your child but don't know where to start.

Race with Midnight (Spring) is about a girl who wants to share her faith in God with her family but doesn't know how she will do that. She prays for the opportunity to do so, and God opens the door for her to share what He has done in her life.
You Can't Come In (Summer) provides a word picture of how sin keeps us out of heaven and clearly shows our need for salvation through faith in Christ.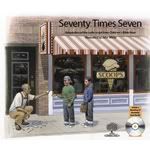 Seventy Times Seven (Fall) is about our need to forgive so that we can be forgiven.
Braving the Storm (Winter) is about a boy whose family is going through a really rough time. He doesn't understand why God would allow it to happen. Watching the trees during an ice storm helps him to understand that he needs to grow his roots of faith deep so that he can survive any storm of life that comes.

My 14-year old, 13-year old, and 6-year old daughters all really enjoyed these books. Seventy Times Seven is the favorite for my 14-year old. You Can't Come In is the favorite for my 13-year old. Race With Midnight is my 6-year old's favorite. My favorite is Braving the Storm although I like the others too. So as you can see the series appealed differently to each of us.
Each book in this series costs $10 which includes a 10"x5.5" book and an audio CD. You can read here what other families had to say.

Disclosure:This product was provided to our family for free as members of the 2009-2010 Old Schoolhouse Magazine Homeschool Crew. No further compensation was received. Reviews and opinions expressed in this blog are my own.