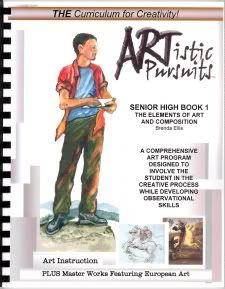 We were recently asked to review Artistic Pursuits, Senior High Book One, The Elements of Art of Composition by Brenda Ellis featuring European Art. Artistic Pursuits is an art curriculum that incorporates Elements of Art, Composition of Art, Art Appreciation, and Art History.
ABOUT ARTISTIC PURSUITS Grades 4-12 Books
First semester (8 units of book) teaches Elements of Art
Last semester (8 units of book) teaches Composition of Art
Art appreciation and history are covered in each unit
One to two mediums are introduced in each book
Book 1 (2 semesters) teaches drawing skills.
Book 2 (2 semesters) teaches color and painting media.
A different period of art history is covered in each level
The material is written directly to the student
No previous art experience is necessary for teacher or student
Each unit contains 4 lessons: Building a Visual Vocabulary, Art Appreciation and History, Techniques, and Application

Art supply packages are available on the website.
There are 16 units per book which you and your student can schedule as desired. If you do 2 lessons per week, it will take 32 weeks to complete a book. Each page is estimated to take 1 hour to complete.
NOTE: The K-3rd grade level is set up differently.
 
I was impressed with this quality product. I can't wait until we can devote more time to these lessons this summer. But to give you a brief glimpse:
Pages are printed on bright white, heavy paper
Clear direction is given
Pages are in color
Lesson are reinforced through observing historical art
Art history and appreciation is included
You can read here what other Crew members have to say about Artistic Pursuits.
Disclosure:This product was provided to our family for free as members of the 2009-2010 Old Schoolhouse Magazine Homeschool Crew. No further compensation was received. Reviews and opinions expressed in this blog are my own.