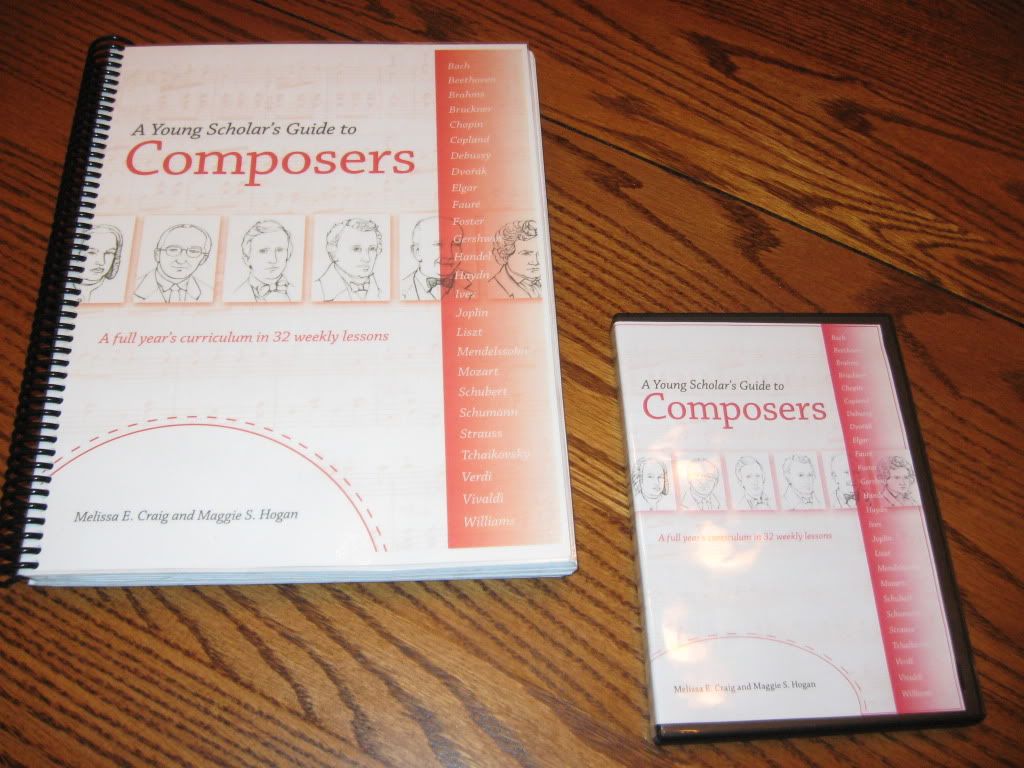 OVERVIEW
Designed for 4th to 8th graders, A Young Scholar's Guide to Composers from Bright Ideas Press helps students (and parents) break the code of classical music. 32 weekly lessons include information about 26 composers from 6 different eras. Notetaking pages, coloring pages, and composer info-cards are all part of the weekly lesson. There is also a timeline template to be completed which gives an overview of time periods and relationships between composers. Internet links are provided so you can listen to the music of individual composers while doing your study. It is also recommended that you complete a a folderbook for your study. (A folderbook is a simplified lapbook.)
The study starts with an overview of the beginning of music. Then you study about music in the Renaissance. This lesson contains a lot of information and could be spread over more than one lesson with younger students. Next comes the Baroque Period and the start of studying individual composers. You also study composers from the Classical Period, the Romantic Period, and the Contemporary Period.
There are game suggestions for the use of the composer cards to help your students retain the information they have learned. In the appendix you will also find a composer resource list, a glossary, and answer keys to the student reviews and timeline.
HOW IT WORKED FOR US
I have long wanted to do composer studies but never got it put together. So I was very glad when I received A Young Scholar's Guide to Composers to review. I was concerned that it might be too young for my 7th and 9th graders but figured that even a light exposure would be better than no exposure. But as I looked closer, the information to be put on the notetaking sheets and timeline is heavy enough to keep their minds busy remembering.
It has been really fun to read about the history of music and to hear the different styles. It has brought an awareness of the arts that was not previously present.
If you would like to introduce your family to classical music, this is a great choice. Perhaps it might even light their interest to pursue it further.
You can read here to see how other families used their Bright Ideas Press products.
PURCHASING
A Young Scholar's Guide to Composers can be purchased as a CD-ROM for $29.95 or a Printed Book for $34.95.  I reviewed the CD-ROM version. It was nice to be able to print the extra pages straight from the computer file instead of copying. The downside was having to print and bind the book. I printed my book and then laminated the front and back covers before taking it to a printer to be spiral bound. It turned out pretty good, but I would choose the printed book next time.
Other products available from Bright Ideas Press include Mystery of History, All American History and Christian Kids Explore Science. Make sure to read my review of Mystery of History.
Disclosure:This product was provided to our family for free as members of the 2009-2010 Old Schoolhouse Magazine Homeschool Crew. No further compensation was received. Reviews and opinions expressed in this blog are my own.