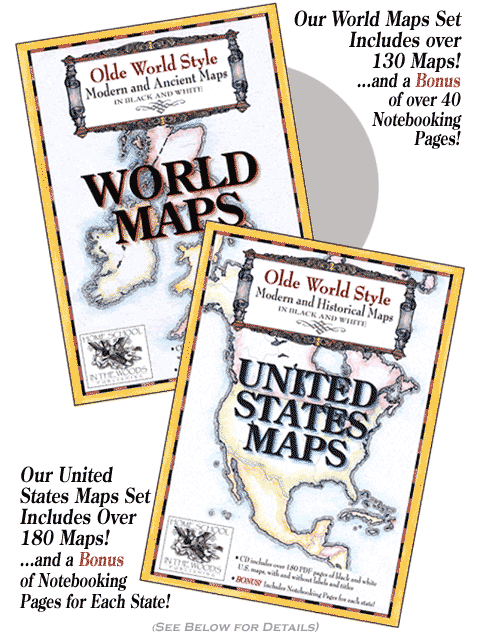 I received the download version of the Maps Combo Pack from Homeschool in the Woods (a $28.95 value). This pack includes a World and US Map set.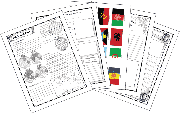 WORLD MAPS (Download $18.95)
The World maps are divided into two categories: Ancients (Early) and Modern. There are 14 different ancient maps and 28 different modern maps. Each of these are divided into Labeled and Unlabeled. The Ancient China maps are divided into the different dynasties. There are also maps of Paul's Missionary Journeys. We are currently studying the Middle Ages and Renaissance which had the least number of maps available in this bundle. But there appears to be several which would complement studies of both ancient and modern history.
The download also included 26 different notebooking pages including pages for specific types of reports. Most pages are available with your choice of dashed or ruled lines. Flags of each nation and a mini-graphic for each country are included as well.
You can see a sample of the World Maps here.
US MAPS (Download $18.95)
This set includes labeled, unlabeled, and outline maps of all 50 states.  It also includes maps for different periods in American history. State Fact Pages (with and without answers) and all the state flags are an added bonus. The maps would be helpful to both younger and older students, but I see this resource being the most helpful when I study American history with my elementary age students.
Here is a sample of the US Maps.
FINAL THOUGHTS
These maps have character which make studies more interesting. I was not able to utilize them as much as I would like yet as the time period we are studying (Middle Ages/Renaissance) is not well represented. I like that the maps come labeled and unlabeled so you do not have to use another source to complete them unless desired. These maps will definitely be a resource I will use.
You can read here what other Crew Mates' thought.
Disclosure:This product was provided to our family for free as members of the 2009-2010 Old Schoolhouse Magazine Homeschool Crew. No further compensation was received. Reviews and opinions expressed in this blog are my own.