History Odyssey from Pandia Press is a literature-based study guide combining history, geography, and writing. It includes intensive writing opportunities but is not a writing course. This review will be for Middle Ages Levels 2 and 3. To give you an idea of what types of subject areas your student would be learning in both levels, here is a list of what sections are to be included in his binder.
Summaries
Men & Women
Wars & Conflicts
Religion & Mythology
Arts, Inventions, & Architecture
Maps & Worksheets
Timeline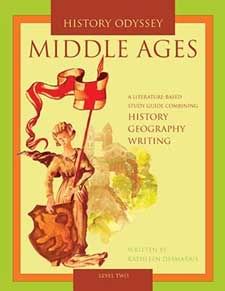 LEVEL 2 OVERVIEW
The main tools used for learning in History Odyssey Level 2 are outlining, summaries, timelines, mapwork (outline maps included), and research. Literature reading is also included followed by some type of writing assignment or worksheet. Several biography reports as well as compare/contrast assignments are completed during the year. (Instructions for writing a biography are included in the appendix.) One fun project completed during the year is that the students make a Shakespeare book including pages they have colored (from A Shakespeare Coloring Book) and their rewritten versions of Shakespeare's works. Another project that is completed during the year is the construction of a castle. Worksheets are use sparingly but effectively throughout the program. Many times in Level 2, the main outline points are given which help students learn to find the main and then subpoints of a passage. You can also adapt how detailed an outline or summary you require based upon your student's skill level. A timeline analysis is completed at the end of the guide. The final writing project is the most complex writing assignment and consists of a multi-paragraph, persuasive paper.
One of the scheduled books, Viking World, has gone out of print so optional internet links are included for the assignments.
You can learn more about History Odyssey Level 2 by looking at the Table of Contents, Book list, and Level 2 Sample.
LEVEL 3 OVERVIEW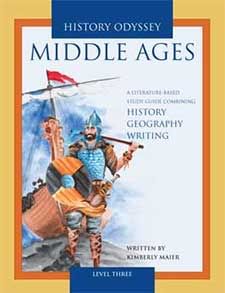 The main tools for learning in History Odyssey Middle Ages Level 3 are outlining, people research (Who's Who Gallery), mapwork, timelines, literature analysis, essays, and research projects. As in level 2, worksheets are judiciously used. Research projects may be about a specific history topic, art, culture, travels, or other areas. Examples of other projects include making an informative brochure and preparing a 3-day lesson plan for teaching culture. The lesson plan must include Performance objectives, Materials list, Procedures, Discussion questions, and Evaluation.
One lesson does not necessarily equal one day of work. There are some really involved projects in this level.
Included in the appendix are instructions on how to write a thesis statement, an essay grading rubric, and blank maps.
You can learn more about History Odyssey Middle Ages Level 3 by looking at the Course Outline, Book list, and Level 3 sample.

COMPARISON OF LEVEL 2 AND LEVEL 3
On the surface History Odyssey Levels 2 and 3 look very similar. However, level 2 is like the tip of the iceberg to level 3. While level 2 uses outlines, summaries, and biography reports, Level 3 builds on those skills requiring the student to dig deeper.  The Level 3 outlines require much more detail and the research assignments are more involved. Instead of an emphasis on biography reports, Level 3 assigns several essays. The books used in level 2 are easier reading while the books in level 3 are more original works. Level 3 also requires deeper literature analysis. Both levels make judicious use of worksheets to solidify the topics being taught.
You can expect to spend 2 hours three to four times per week to complete this program in a year.
 PROS
Literature-based but not a lot of resource investment
Minimal teacher preparation
Clear instruction written directly to student 
Blank outline maps included
Clean layout and presentation
Meaty
CONS
Might be more writing intensive than some want
Levels 2 and 3 do not correspond
FINAL WORD
I think that History Odyssey is very well done. Its clean layout and rich content make it a great choice especially for those who want a literature-based program but need the ease of self-directed material. You can purchase an e-book edition for $33.99 directly from the Pandia Press website. A print copy can be purchase from various vendors and has a suggested retail price of $38.00. It is non-consumable.
Pandia Press also carries a product called R.E.A.L.Science Odyssey.
You can read here what other Crew members discovered with their Pandia Press products.

Disclosure:This product was provided to our family for free as members of the 2009-2010 Old Schoolhouse Magazine Homeschool Crew. No further compensation was received. Reviews and opinions expressed in this blog are my own.