My philosophy has always been that no matter what the size of business, all materials and products should be professional quality. So when I received my package from Virginia Soaps and Scents, I was very impressed. From their website to their brochure to their packaging - it is all beautiful. Even their stationery is classy. The items I received were 3 Bed and Bath size soap samplers (Orange; Oatmeal, Milk & Honey; and Coconut Lemongrass), a sampler Ginger Lime shampoo bar, and a trial laundry soap kit.
You definitely need to visit the Virginia Soaps and Scents website. Their products are beautiful and it is a really fun place to shop. They have soaps, shampoo bars, bath and body products, and who knows what else they have developed. The Bed and Bath Sampler  would make a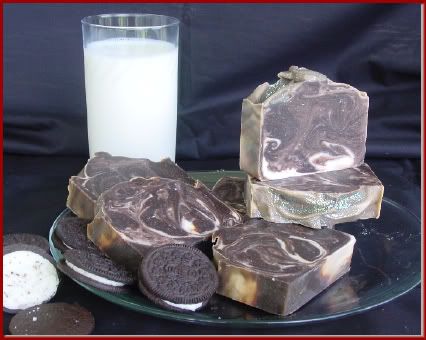 great gift. And their Christmas Collection of Wild Bayberry, Pumpkin Spice, and Peppermint scents looks delicious! The Peppermint, in particular, is gorgeous and almost too pretty to use (although they maintain their color well). Really, I would love to try one of each scent. They even have a CHOCOLATE flavor  for  all you chocolate lovers (and friends of chocolate lovers). And don't miss the Victorian Lace. They also have All-In-One Body Bars for shampoo, shower and shave in the scents of the Outback Bar,
Waltzing Matilda, and the Kiddiwink Bar (a very fun bar for the little tykes). If you prefer no  scent at all, they even have that available for their products. I could go on and on with my list, but you will just need to check out the website for yourself. My daughters and I had more than one fun day doing so.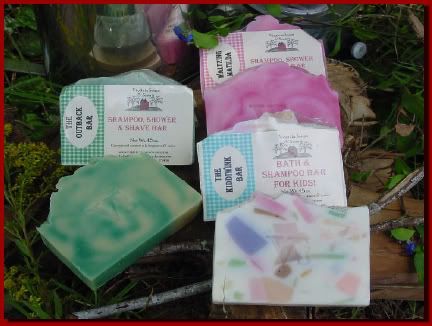 It's one thing to ooh and aah over beautiful pictures and yummy sounding scents. But what were the products like?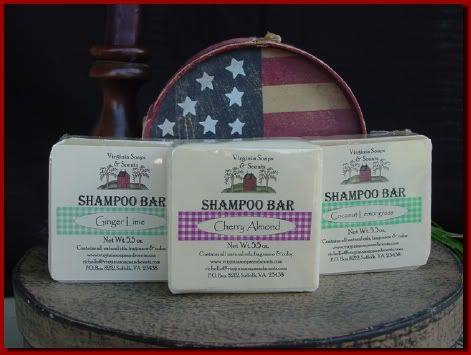 SHAMPOO BAR - $5.50
My husband claimed the shampoo bar. He liked that you just had to run the bar over your hair and a rich, thick lather formed. He also liked how clean it made his hair feel. My 12yo daughter really liked the shampoo bar as well. I liked how it made my hair feel too. It  definitely gave it more bounce. Unfortunately, I have an itchy scalp and it did not seem to agree with the shampoo bar. So I will have to wait to use it until I can solve my scalp issue. Our shower trial-size bar lasted us between 2 and 3 weeks. The actual shampoo bar is 5.5 ounces which I believe is about 3 times the size of our sample bar. It comes in three scents of Ginger Lime, Coconut Lemongrass, and Cherry Almond. They also have an Oily Hair/Clarifying formula that comes in Tangerine Grapefruit.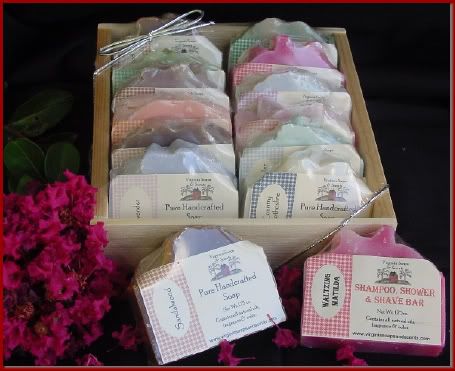 SOAP - $4.50 per bar; $12 for 3 bars; $35 for 10 bars 
I was impressed at how well the soap lasted. The bars stayed firm and did not dissolve into a puddle of mush even with being used by a 2 year old. My favorite scent was the Oatmeal, Milk and Honey. It seemed to have a cinnamon scent to it. My 6 year old liked the Orange. And my 12 year old daughter liked the Coconut Lemongrass. The thing I liked about the scents was that they were clear and sharp. The full-size bars are 4.5 ounces.
LAUNDRY SOAP - $4.95 (64-72 loads)
Before my Virginia Soaps and Scents samples arrived, I already had been using homemade laundry soap. I hadn't been super impressed with the results but the laundry didn't seem any worse than with what I was using before, so I stuck with it.
The difference I found with the Virginia Scents and Soaps Laundry Soap Kit is that it made a more concentrated soap. It also seemed to clean the socks better than I have seen in a long time (even with commercial soap). A big plus for me is that it is made with their unscented Cleaning Soap which is much better than the commercial variety I previously used. (The Cleaning Bar is a different formula than their Body Bar just in case anyone has the same question I did.)
If you already make your own laundry soap or want to buy some of the ingredients yourself, you can purchase just the 4.5 ounce Cleaning Bar for $3.95 and follow the recipe on the website. I know I will be putting these on my order! I definitely want to try this laundry soap again.
BOTTOM LINE
The Virginia Soaps and Scents products were very well received in our home. I can't wait to place an order but am having a hard time deciding my top choices to try.
These products were used in many different households, so please take time to read the other Crew reviews to see how they were received.
I hope you have as much fun perusing the Virginia Soaps and Scents website as we did.
 Disclosure:This product was provided to our family for free as members of the 2009-2010 Old Schoolhouse Magazine Homeschool Crew. No further compensation was received. Reviews and opinions expressed in this blog are my own.